These days, every guy at the track seems to have high end boots. Alpinestar released their newly designed Tech 7 boot earlier this year with the "baller on a budget" in mind. My question was, are they actually a good boot or just good looking? Here is my presonal review on the new "2014 Alpinestar Tech 7′s".
The Looks
As a previous owner, I do have to say the new 2014 Tech 7′s are very cool looking. You can also get them in 6 different color-ways that match every bike under the sun. Another plus is that these boots look almost identical to their $600 brother (Tech 10′s) but for nearly half the price.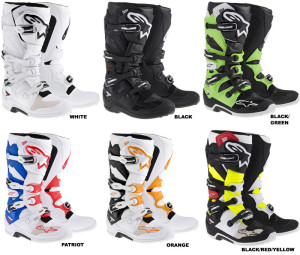 The Feel
Not only do these boots look killer, but they are really comfortable as well. For myself, I felt no need to "break" these boots in. I slipped them on and was immediately at home. However, I have spoken with other riders that have had a tuff time getting them to the point where they were comfortable.
The Performance
If you are an aggressive rider that is known to be hard on boots, the Tech 7′s might not be the best fit for you. I like to grip the bike with my boots, as do many riders. Within a couple rides rubber traction pads that come in contact with the frame of the bike were wore off. The worst thing is that the sides are non-replaceable, so you are stuck with minimal grip. Another grey area of the Tech 7′s is the toe cap of the boot is soft, which is very good for feeling your shifter and brake pedal. However, the major downfall to that is the molded to cap falls apart very easily.
Okay, so we've all been there. Mid race, you notice your boot feels looser than you remember. You look down and half your buckles aren't buckled. The Tech 7′s do not stay fastened. Ever. End of story.
What I Really Think
All and all, the Alpinestar Tech 7′s are very good for some riders and not so good for others. What I mean by that, is for casual riders the Tech 7′s will be just fine. They're comfortable, protective, and look great. For racers that are looking for the upper echelon of motocross boots, you won't find it with the Tech 7′s. These boots lack the ruggedness it takes to withstand the beating of someone riding hard and often. I personally made the switch to the Gearne SG12′s. I'm still playing with them, but when I feel comfortable I will write another review on how they compare.
MSRP: $349
Pros:
Light Weight

Price Point
Look Great
Good Feel
Comfortable
No Break-in Time
Cons:
Author:  Jesse Ansley