EKS Brand is becoming one of the most well known goggles in the business. They are the goggle of choice for many people and are quickly soaking up more and more of the goggle market.
Features
Unlike most goggle companies they use only one frame design.  That does not sound good right? Well I love it because it means you don't have to worry about having different tear offs and lenses.  The same accessories can be used on every pair of EKS Brand goggles.  
EKS also offers a roll off system or "zip off" as they call it.  This system was used all season long by Women's champion Ashlee Applewhite and she loved them.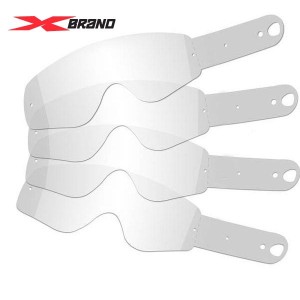 They offer regular tear offs and laminate tear offs as well.  The laminates come in stacks of 7, so one stack of 7 looks as if you have on one tear off.  The laminates are all I personally use for races. I put 2 stacks on and I'm good to go all day.  
Lens are available in many different colors.  I personal like to use a blue tint as it is not too dark, but gives some relief from the sun.  The lens also hold up very well as I have never had a crack or any issues like that with the lens. 
I also love the style of the goggles.  The color combos of the frames and straps are some of the best out there.   
Fitment & Performance
I personally love the fitment of the goggle.  They fit my face very well and everyone that uses them says the same thing.  I sweat a lot and I have zero issue with it getting on the inside of my goggles.  But like all goggles, some dust will get in.  I have used a lot of other brands over the years and never found a goggle that did not allow some dust in.  
Durability
But let us be honest, most people are not like me and use goggles only a few times in a race and switch to new ones.  So how do they hold up?  I have been using EKS for over two years now. I still use the first 4 goggles I ever received from EKS for practice.  These things have been beat, tossed around, washed in the washing machine 10 or more times and they are still in great shape.  I would have no issues using them in a race at all.  
Bottom Line
As someone that has been racing in the sand and mud of Florida for the last 20 years, EKS Brand Goggles are simply one of the best goggles I have ever put around my face. For the price of the goggle, it clear that dollar for dollar EKS is one of the best goggles you can buy.  Check out their Web site EKSbrand.com
Do you like BEER!? Then you will love BEER Goggles.  Yes EKS makes them, they use all EKS accessories and the frames are the same as well.     
Price
Retail ranges from $34.00-$47.00 and remember the $34.00 pairs are the same as the $47.00. They also make a youth goggle as well and it retails for $29.00-$39.00. 
Author:  Michael Jones