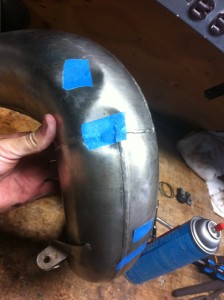 Well, I have a 2012 KTM 300XC whose pipe has seen better days. It seems 2 stroke KTM's are quite vulnerable to dents because of the size of the expansion chamber. The peanut gallery online has made several comments when viewing pics of me about how many dents (some very large) are in my pipe. I considered replacing it after watching the scary YouTube videos about heating and adding compressed air to remove the many dents I had. Since I have 3 sons and care about my eyes and extremities, I chose not to pursuer the DYI approach. Here's where Pacific Crest Pipe Repair (piperepair.com) comes in.
I checked out their before and after pics and was impressed with what I saw. So, I took the chance and shipped off my pipe to them to see how good they are.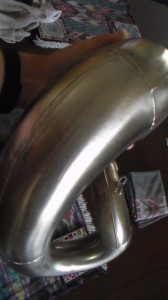 I had no dialogue with them before I sent in my pipe. I did exchange a couple of emails to ensure they received the pipe and understood the magnitude (in my opinion) of the necessary repairs. They didn't show one ounce of concern and I interpreted this as they didn't see any issues and had seen much worse. Next thing I know, I received an email that my pipe was in route back to me.
When I received it I was beyond pleased. I'd sent the pipe to them with tape on all the dents and the pipe was by no means clean. What I received was a very clean pipe that looked almost new. There are some very minor signs where the old dents were near welds and it isn't 100% perfect, but for what I spent, it was well worth it to me. Much better than paying $249+ for a new FMF pipe.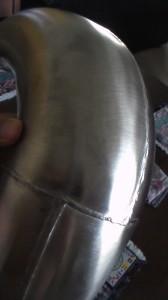 The cost for the repair was $60 plus $18 for return shipping.
Now, I must consider using the carbon fiber pipe guard that was reviewed earlier ($149.95 + shipping). I must decide, is it cheaper to have the dents removed as needed or should I protect it from the get-go? By my calculations, I can get it fixed 2 times before I recover the cost of a pipe guard.
I think I'll rely on Pacific Crest Pipe repair since the coast was reasonable and the turn around time was so quick. I only went with a repair because I had so many dents and a few were very large. I doubt I'd go for an additional repair unless the pipe is seriously damaged.
If you have any questions about my experience, hit me up on the FTR forums or on Facebook.
As a side note, Pacific Crest Pipe Repair is donating a free pipe repair certificate to the FTR banquet! They do 2 stroke, 4 stroke and vintage repairs. Honestly, I hope I win it as I have no complaints about their work and quick service.
Contact Bret at 541-664-0400 or bret@piperepair.com
Shaun Foutch, Master B #1B